Florence is not an uncommon name for cities, and there are two humane societies with the name Florence Area Humane Society.  The Oregon FAHS has the web domain name florencehumane.org and the South Carolina FAHS had the domain name fuzzyfaces.org up until February 2003.

While the South Carolina FAHS still has some information on the web, it is not activly being kept up to date, so the following information is posted here, and was current as of 1/20/2004.  Current web addresses for FAHS-SC will be posted here when received.  Meanwhile you can send them email using a mail form by clicking here .

For any corrections or additions to this page, please click here to send email to the webmaster at florencehumane.org.

Address and Phone:
Florence Area Humane Society
1007 Stockade Dr.
Florence, SC 29506-3444
(843) 669-2921
email:
Click here to send email to the South Carolina FAHS.
Visiting Hours:
Monday Tuesday Thursday Friday Saturday 12noon-5pm
Closed to the public Wednesday and Sunday
Directions :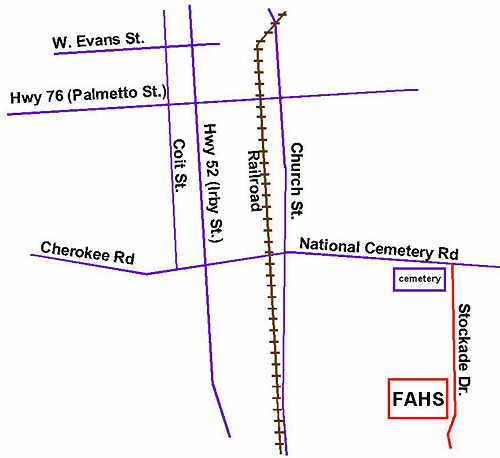 We are located on Stockade Drive, off of National Cemetery Road in Florence.  Traveling south on Irby St., turn LEFT on National Cemetery Road, cross over the railroad Tracks and continue straight.

You will cross over Church street and approach 2 cemeteries, one on the left and one on the right.  Immediately after the last cemetery on the right you will see our sign on the right.
This is Stockade Drive.  Follow that and you cannot miss our kennels on the right.


Use your back button to return to your previous page, or click here to go to the home page of the Oregon FAHS.